December 3
I Love Laughing With Friends
Lord, have I thanked you lately for my friends?
How you have blessed me with the circle of people who keep me sane. Honestly, I think I would go crazy if I didn't have people to bounce ideas off of, talk me off the ledge, point out my foolishness, encourage me when I'm right but too timid, make me feel like I belong, help me out in a pinch, explain things to me, give me advice, and generally magnify my good times into great times.
As I think about the dear people you have brought into my life, I get what the psalm writer was talking about when he expressed his joys not just by himself but with people he loved: "Our mouths were filled with laughter, our tongues with songs of joy" (Psalm 126:2).Lord, you designed laughter as an amazingly healing human activity.My friends help me lighten up and not take myself so seriously. They give me perspective on my struggles, they share things they've learned, and they help me when I am in trouble.
I don't want to be just a taker. How can I show people how much they mean to me? Please let me give as much of a lift to other people as they give to me. How can I show you how much I appreciate the gift of loving people in my life?
---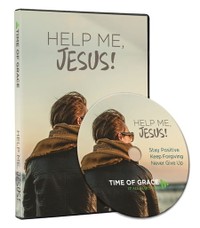 Help Meet the Challenge Grant!
A group of generous friends has stepped forward with a $350,000 Challenge Grant. This means any gift you give to Time of Grace this month will be worth twice as much to share the timeless truths of God's Word with others!
This three-part DVD focuses on looking to God when you're struggling with issues like forgiving others and persevering through trials. And the prayer book helps you put your struggles and concerns into words—and turn them into prayers to God.
The Help Me, Jesus! set is our thank-you for your donation to help us continue telling others of the forgiveness they have through Jesus. Request your copy today!
For more from Time of Grace visit them at TimeofGrace.org or visit their OnePlace.com and LightSource.com pages!