December 31
Lord, You Made Me a Winner
I have to admit I was worried, Lord. It was such a big challenge! I wasn't sure if I was up to it. Remember all those prayers? Of course you do. Nothing escapes your notice or memory. It took such a long time. I admit also that I was worried. I thought maybe I was on my own. But you taught me a lot through this whole thing—you taught me patience, tenacity, and toughness. You made me wait, but you came through for me.
I know some of my friends think I did this, but you and I know the truth. "Not to us, O Lord, not to us but to your name be the glory, because of your love and faithfulness" (Psalm 115:1). This experience will stay with me and fortify me for the next challenge. Please help me remember these days when I am tempted to panic later in my life.
Lord, I am thrilled to be useful to you in all your kingdom work. I can't always figure out what you're up to, but in hindsight everything seems to fall into place. The older I get, the more I see that you can be trusted to manage everything. Thank you for developing me, growing me, maturing me. Perhaps there is a struggling soul nearby that I can encourage for you?
---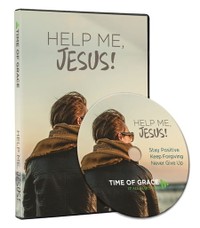 Help Meet the Challenge Grant!
A group of generous friends has stepped forward with a $350,000 Challenge Grant. This means any gift you give to Time of Grace this month will be worth twice as much to share the timeless truths of God's Word with others!
This three-part DVD focuses on looking to God when you're struggling with issues like forgiving others and persevering through trials. And the prayer book helps you put your struggles and concerns into words—and turn them into prayers to God.
The Help Me, Jesus! set is our thank-you for your donation to help us continue telling others of the forgiveness they have through Jesus. Request your copy today!
For more from Time of Grace visit them at TimeofGrace.org or visit their OnePlace.com and LightSource.com pages!