December 6
I Feel Like Giving Up
Not long ago a man driving on the Hoan Bridge high over Milwaukee's harbor watched in horror as a woman got out of a parked car on the bridge deck, climbed over the railing, and jumped to certain death hundreds of feet below.
A great many people can identify with the despair the woman must have been feeling. Who among us can deny wanting our lives to be over during a period of misery? In America alone, over 35,000 people killed themselves last year, and at least ten times that number attempted it. Ten times that number probably thought seriously about doing it.
Do you know anybody on the ledge right now? Speak up. Encourage people not to jump to their deaths but to jump into the arms of the Lord Jesus.
Jesus Christ has everything we really need on this earth. He promises to strengthen and sustain us in all hardships, and he promises on his sacred honor to come back and take us to live forever in heaven. Here is his promise: "Cast your cares on the Lord and he will sustain you; he will never let the righteous fall" (Psalm 55:22). 
---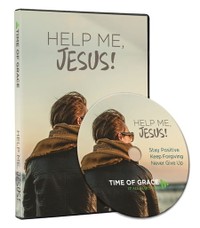 Help Meet the Challenge Grant!
A group of generous friends has stepped forward with a $350,000 Challenge Grant. This means any gift you give to Time of Grace this month will be worth twice as much to share the timeless truths of God's Word with others!
This three-part DVD focuses on looking to God when you're struggling with issues like forgiving others and persevering through trials. And the prayer book helps you put your struggles and concerns into words—and turn them into prayers to God.
The Help Me, Jesus! set is our thank-you for your donation to help us continue telling others of the forgiveness they have through Jesus. Request your copy today!
For more from Time of Grace visit them at TimeofGrace.org or visit their OnePlace.com and LightSource.com pages!