December 7
The Enemy
On Dec. 7, 1941, the naval aviators of the Empire of Japan achieved total surprise in their early morning attack on Pearl Harbor. Absolutely nobody in a U.S. uniform saw it coming. In fact, even when the bombers, torpedo planes, and Zeros with their "rising sun" insignia flew directly overhead, many U.S. personnel thought it was just a training exercise.
We have an enemy brooding in hell who is more dangerous than the Empire of Japan or any earthly threat or evil all rolled into one. Satan, the prince of darkness, has committed himself to destroying the relationship that exists between believers and their Savior Jesus and fully plans to enjoy all the suffering that he can inflict on them. All too often people don't see his nasty work and are caught by surprise at the destruction he causes.
St. Paul wrote, "Our struggle is not against flesh and blood, but against the rulers, against the authorities, against the powers of this dark world and against the spiritual forces of evil in the heavenly realms" (Ephesians 6:12).
One of the great tragedies of Pearl Harbor is that U.S. radar operators were tracking the Japanese planes when they were still hundreds of miles north of Oahu. But the operators said little, and what they did report wasn't believed. You'd better listen to St. Paul. He's telling you the truth.
---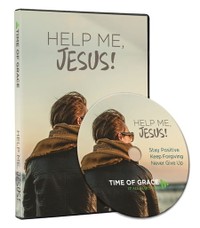 Help Meet the Challenge Grant!
A group of generous friends has stepped forward with a $350,000 Challenge Grant. This means any gift you give to Time of Grace this month will be worth twice as much to share the timeless truths of God's Word with others!
This three-part DVD focuses on looking to God when you're struggling with issues like forgiving others and persevering through trials. And the prayer book helps you put your struggles and concerns into words—and turn them into prayers to God.
The Help Me, Jesus! set is our thank-you for your donation to help us continue telling others of the forgiveness they have through Jesus. Request your copy today!
For more from Time of Grace visit them at TimeofGrace.org or visit their OnePlace.com and LightSource.com pages!