June 17
But God said
Pastor Mike Novotny
I once made the mistake of promising my kids more than I could deliver. At the start of a lazy Saturday, I said, "Girls, today we are going to eat lunch and take naps and do the Slip and Slide and make dinner and read the Bible and watch a movie and play some board games." But, as I should have guessed, we couldn't fit in everything that Daddy planned. When bedtime arrived, before the board games were out, want to guess what my kids whined? "But, Dad! You said!"
It's hard to admit, but we are all less than faithful to our promises. Most of the time we don't intend it, but it still happens. We make a promise, but then something comes up that we didn't know about. Or we run out of time or energy and have to change the plans.
But this is one more reason I love God. Psalm 33:4 praises, "[The LORD] is faithful in all he does." Because God knows everything (nothing surprises him) and because God can do anything (he never runs out of energy), he keeps every promise he makes. He is faithful. So when he promises that your prayers are more than token religious habits, he means it. When he assures you that your time in his Word will never come back empty, he means it. A faithful God couldn't mean anything less.
So hold your Father to his Word. Insist, with the faith of a child, "But, God, you said!"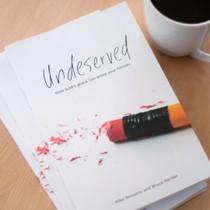 Let God's Grace Erase Your Failures!
You can't disqualify yourself from the power of God's love and purposes in your life.
That's the message seen in Scripture through the life of Jacob. And in their new book, Undeserved, Pastor Mike Novotny and Dr. Bruce Becker take you on an inspiring journey through the life of this flawed individual who nonetheless experienced God's rich blessings and was used by him for extraordinary purposes. God does the same for you too.
For more from Time of Grace, visit them at TimeofGrace.org.