The ministry of kind words
Pastor Mark Jeske
"The mass of men lead lives of quiet desperation." Henry David Thoreau wrote that in Walden in 1854, and he meant women too. Thoreau's sad observation hasn't changed much. If you look around you at the supermarket, bleachers, workplace, parking lot, or even church, you will see people who look normal and placid as they go about their tasks. Inside they are probably stressed and miserable—their son is in prison, their spouse has been cheating, they fear being fired, their credit card debt is in the stratosphere, they are terribly lonely, they can't get over the sexual abuse suffered in childhood, and they know they drink way too much.

Assume that the people you talk to each day live in the land of desperation. "An anxious heart weighs a man down, but a kind word cheers him up" (Proverbs 12:25). Just think—you can change the trajectory of a life by a few words. Such a small thing! What does it cost you to talk a little? When someone is walking through a desert, parched for lack of encouragement, your kind words are sips of cool water.

What does it take? 1) Turning outward, getting over obsession with self, looking at other people and listening; 2) Remembering with gratitude the people with kind words whom God has sent into our lives; 3) Finding joy in making other people feel important.

Pick one person you will see today and start your new ministry of kind words.
---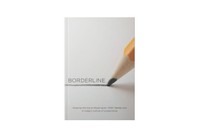 Draw the line at those "little" deadly sins!
Borderline is a warmly conversational, yet thought-provoking new book that will inspire you and perhaps even reset your views on the borderline issues. And it'll remind you all over again of the power of God's unconditional love and grace to help guide you through.
For more from Time of Grace visit them at TimeofGrace.org.