Redeeming Love
Recently I read a book genre that I admit I had never read before – a romance novel. It was written by Francine Rivers and is entitled Redeeming Love. It is based upon the book of Hosea though framed in the western movement in America. It is a book about the unconditional love of a man and his prostitute wife. Much of it takes into account Sara's (the prostitute) horrible life as a child prostitute, a life she was introduced to at the age of eight. She was abused and victimized by one horrible person after another and could not see herself as anything but un-loveable and incapable of loving. She experienced one bitter betrayal after another, that is, until she met Mr. Hosea, a man who received from God a mandate to marry her and to love her with no strings attached.
I must say it grabbed me given the fact that I was in the throes of studies in Hosea for my new sermon series "The Marriage from Hell Made in Heaven." As the novel unfolded I was struck by how conditional my love is for the unlovely. Could I do what Mr. Hosea did in the novel or better yet what the real Hosea did for his wife Gomer? Sadly, I had to conclude that I have a long way to go in the practice of that kind of love.
Yet, that is precisely how God has loved me – unconditional love based not upon my love for Him but upon Christ's love for me. In John 21:15 and following Jesus confronts Peter on the breadth and depth of Peter's love. Three times He asks Peter if he truly loved Him. On the third time Peter is distressed…
[17] He said to him the third time, "Simon, son of John, do you love me?" Peter was grieved because he said to him the third time, "Do you love me?" and he said to him, "Lord, you know everything; you know that I love you." Jesus said to him, "Feed my sheep. (John 21:17 ESV)
Why did Jesus ask Peter the same question three different times. There can only be one logical answer to this question. Peter denied Jesus three times and three times Jesus would restore Peter. That is why Peter was "grieved" by the third question. He knew exactly what Jesus was doing – bringing out the depth of depravity in Peter's sin in order to lavish upon Him that "agape" God-love that transcends human failure. How great is the love of God. You and I have never sunk so low that God's grace and mercy hasn't stooped lower to raise us up.
There is so much more to this little book that is rich with repeated judgment warnings, but even greater is the powerful description of God's broken heart and unending love for His people.  You can join me in my verse by verse exposition of this passion-packed story by accessing my current preaching at In His Grip on Lightsource.com. https://www.lightsource.com/ministry/in-his-grip/it-was-the-best-of-times-it-was-the-worst-of-times-404391.html
In His grip,
Chuck

Digging Deeper: Hosea 1 – 2; John 17:15 - 17
SPECIAL OFFER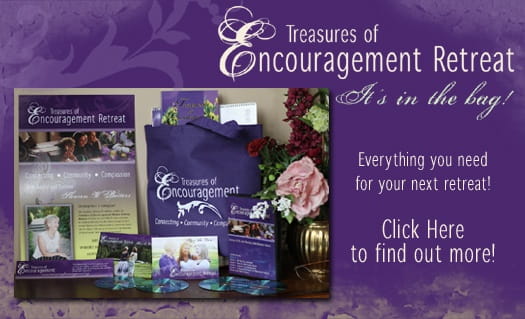 Treasures of Encouragement Retreat in a Bag - Designed especially for small churches and small group Bible studies. Special Price $99 + shipping  (Retail value $149) Use Code STATES14
Planning a women's retreat can be one of the best experiences of a woman's ministry life or one of the worst! Planning a women's retreat for a small church can be even more challenging because of the limited resources like people and money. This resource is designed to make it one of the best. Everything you need to plan your retreat is "in the bag," including the speaker, Sharon W. Betters! This all inclusive resource is designed to make your retreat planning simple and inexpensive. You will receive an attractive Treasures of Encouragement Tote Bag filled with tools to guide you in planning a life-transforming retreat. Sharon Betters, author of Treasures of Encouragement, will be your speaker via DVD's. In your tote bag you will find all sorts of tools and exciting ideas for making your retreat fun and a place for women to connect and cultivate community, not only with each other but with Jesus.
For more information from In His Grip with Dr. Chuck F. Betters please visit http://www.markinc.org/
https://www.oneplace.com/ministries/in-his-grip/