"Being Light in a Godless Age" - In Touch - Nov. 21-22, 2009
November 21-22 
Being Light in a Godless Age 
2 Timothy 3:10-16
According to Scripture, our world is headed for terrible times. Politicians can't solve the problems. Neither can philosophers or philanthropists. Only God has the remedy—salvation and transformation, one life at a time.
As ungodliness increases, believers will be greatly impacted. Paul warned us to take precautions so we don't start following the dysfunctional choices of the godless. One way to do this is by being sensitive to God's work in the lives of His people. Timothy paid attention to the way Paul handled adversity and made decisions. He could see that God delivered the apostle from many tough situations, so the young man chose to emulate him. Like Timothy, we're wise to observe those who are choosing God's way.
Another precaution is to notice the spiritual foolishness of those living apart from Christ—and avoid their influence. They may be high achievers, financial successes, or generous givers, but without Jesus, they remain outside God's family. Their choices reflect man's priorities, not the Lord's.
Finally, we must be committed to the Bible as our guide for life. God's Word was written by ordinary men under His inspiration. He designed the Scriptures to be profitable for teaching, correction, and godly living.
We are commanded to be ready on all occasions to speak the name of Jesus, share what He has done for us, and relate His gospel message to others. When we do, we will be like lights reflecting the truth of our Savior to a world desperately in need of illumination.
For more biblical teaching and resources from Dr. Charles Stanley, please visit www.intouch.org.
Click here to watch Dr. Charles Stanley & In Touch Ministries Video Online
and
click here to listen to Dr. Stanley at OnePlace.com.
FEATURED RESOURCE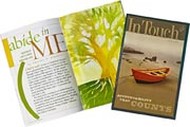 In Touch Magazine
Stories that Inspire, Teaching that Renews
If you like Dr. Charles Stanley's radio program, TV broadcast and books, then you'll love his free, award-winning monthly magazine. It's full of informative resources that will touch your heart and invigorate your faith. Every month, In Touch magazine brings readers daily devotionals from Dr. Stanley, in-depth Bible studies, inspiring articles and insightful teaching to help strengthen your family and your relationship with God. Click below to start your free subscription to In Touch magazine. 

Used with permission from In Touch Ministries, Inc. © 2009 All Rights Reserved.