"Distracted Listeners" - In Touch - Oct. 10-11, 2009
October 10-11
Distracted Listeners 
1 Samuel 3
Have you ever tried to have a serious discussion with someone who you knew was not really listening to you? It can be quite frustrating. Not only is it practically impossible to get your message across, but it also betrays a selfishness on the part of the other person that we often find irritating and disrespectful.
You see, when we have a significant message to share with someone, we naturally want his or her undivided attention. God is the same way. When He speaks to us, He always has something extremely important to say. Therefore, He rightfully expects our complete focus and attention.
When the Holy Spirit communicates with us, we will often hear His voice immediately if we have been walking in step with Him. His "voice" may be a gentle whisper in our spirit, or it could be an obvious, miraculous sign "from out of the blue." However God chooses to speak, those who are attuned to His voice will hear Him.
But we don't always walk perfectly in the Spirit, do we? At those times when we are distracted, God must do something to get our attention. He may give us a restless spirit or speak a word of wisdom through a friend. He might even do something drastic, like bring about an unexpected move or career change.
When we're not tuned in to the Spirit, God's warning signs can feel like spiritual attacks. Yet these could be the very times when the Lord is revealing Himself to us. Could He be trying to break through your distractions? Prayerfully consider how He may be speaking, and see if you can discern His message. 
For more biblical teaching and resources from Dr. Charles Stanley, please visit www.intouch.org.
Click here to watch Dr. Charles Stanley & In Touch Ministries Video Online
and
click here to listen to Dr. Stanley at OnePlace.com.
FEATURED RESOURCE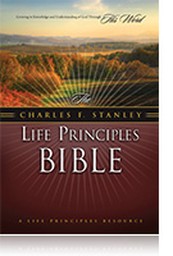 The NASB Life Principles Bible
You can now read the Scriptures in Dr. Stanley's favorite teaching translation -- the New American Standard -- while learning the 30 Life Principles that have guided him for more than 50 years. The new NASB Life Principles Bible will enhance your personal study time through explanation of key passages, plus helpful resources like "Answers to Life's Questions," concordance, maps, and much more. Available in leather and hardcover. 

Used with permission from In Touch Ministries, Inc. © 2009 All Rights Reserved.