January 16-17
God's Message to His Children 
1 John 4:9-10
God's message to His children is consistent: We've been accepted by Him and belong to Him forever. In this acceptance, we discover a sense of security, adequacy, and love that frees us to live for Him.
At the cross, God revealed the extent of His love. He sent His Son Jesus to die in our place—we deserved death as punishment for our wrongdoing but received a pardon instead (Rom. 6:23). By becoming our substitute, Christ experienced God's wrath for our sins, and His sacrifice opened the way for our adoption into God's family (Eph. 1:5). As children of the heavenly Father, we are not only deeply loved but also highly valued. Our worth does not derive from anything in our character or performance but rather depends solely on our relationship with Jesus. What it cost the Father to save us indicates the worth He has placed on us. He has even made us co-heirs with Christ in heaven (Rom. 8:17).
Our adoption into God's family also gives us security and competency. Our heavenly Father has promised to protect us from the Evil One, endow us with spiritual gifts, and provide what we need to carry out His work effectively. The Holy Spirit will equip us with the knowledge, understanding, and divine power we need to serve as His emissaries.
The world thinks love and worth are tied to performance, while security rests in material possessions. But God showed His love by sending Christ to die for us (Rom. 5:8). In Him, we find value, competence, and peace. Consider whose message you are believing—God's or the world's.
For more biblical teaching and resources from Dr. Charles Stanley, please visit www.intouch.org.
Click here to watch Dr. Charles Stanley & In Touch Ministries Video Online
and
click here to listen to Dr. Stanley at OnePlace.com.
FEATURED RESOURCE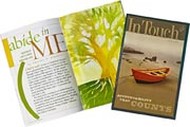 In Touch Magazine
Stories that Inspire, Teaching that Renews
If you like Dr. Charles Stanley's radio program, TV broadcast and books, then you'll love his free, award-winning monthly magazine. It's full of informative resources that will touch your heart and invigorate your faith. Every month, In Touch magazine brings readers daily devotionals from Dr. Stanley, in-depth Bible studies, inspiring articles and insightful teaching to help strengthen your family and your relationship with God. Click below to start your free subscription to In Touch magazine. 

Used with permission from In Touch Ministries, Inc. © 2009 All Rights Reserved.