April 20
The Dark Moments in Our Life 
Acts 14:21-22
If you want a meaningful life, you will at times travel the road of adversity. However, every hardship in your path has a specific purpose. Our Father allows pain and trials into His good plan for our life (Rom. 8:28).
When we are facing dark times, the first word that comes to mind is usually Why? God welcomes our questions but challenges us to obey Him, even when we don't get answers (Prov. 3:5-6). In fact, we may have to wait months or years before knowing the purpose behind a trial. Sometimes the answers don't come at all in this lifetime.
Joseph spent 13 harsh, dark years in Egypt. He faced betrayal, separation from loved ones, and culture shock followed by slavery, false accusations, and prison time. His only evidence of a sovereign, loving God was that he consistently prospered, even during times of trouble.
Everything Joseph endured prepared him for a job as Egypt's prime minister. While still a boy, he learned the language, culture, and mindset of a foreign nation. Moreover, the man who emerged from hardship was the Lord's disciplined, faithful servant. In the end, Joseph was positioned to save more than a country; he rescued God's chosen people—the family tree of Jesus Christ, the Messiah.
Living in the center of the Lord's love doesn't guarantee an easy, pain-free life. In fact, the opposite is true. God loves believers so much that He conforms each one to His Son's likeness through any means necessary. In His expert hand, we become servants whose victories and trials glorify Him.
For more biblical teaching and resources from Dr. Charles Stanley, please visit www.intouch.org.
Click here to watch Dr. Charles Stanley & In Touch Ministries Video Online
and
click here to listen to Dr. Stanley at OnePlace.com.
FEATURED RESOURCE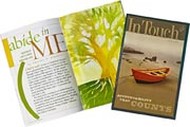 In Touch Magazine
Stories that Inspire, Teaching that Renews
If you like Dr. Charles Stanley's radio program, TV broadcast and books, then you'll love his free, award-winning monthly magazine. It's full of informative resources that will touch your heart and invigorate your faith. Every month, In Touch magazine brings readers daily devotionals from Dr. Stanley, in-depth Bible studies, inspiring articles and insightful teaching to help strengthen your family and your relationship with God. Click below to start your free subscription to In Touch magazine. 

Used with permission from In Touch Ministries, Inc. © 2009 All Rights Reserved.