In Touch Daily Devotional
by Dr. Charles Stanley
---
April 30, 2007 – Why Call Me "Lord"? –
Luke 6:46-49
Jesus asked a pointed question to a group of His followers in Luke 6:46. He said, "Why do you call Me, 'Lord, Lord,' and do not do what I say?" Using His illustration of the two builders, we can see four key truths.
First, professing faith in Christ without performance is deceptive. If you say you love Jesus on Sunday, but show no signs of a Spirit-led life all week, then you're living a lie. There's no other way to say it.
Second, profession followed by performance has a price. Some people wander through life without any real focus. They pay attention to the loudest voice or the brightest star. In contrast, living intently and passionately for Christ is usually difficult. Making wise choices may require extra effort, but the reward is well worth it.
The third key truth is this: profession followed by performance will succeed. Everyone on earth faces trials. And sometimes there's one devastating storm after another. But if we focus on God's Word and apply His truth to our circumstances, we'll be able to stand firm in difficult times. Our lives will be supported by the strong foundation of Jesus Christ.
Finally, professing faith in Christ without performance results in ruin. The world's "easy way" may seem more enjoyable, but it results in living without a spiritual base. When trouble comes, our lives would crumble. That's a far cry from the victory and strength our Savior wants us to experience.
Why do you call Jesus "Lord"? Do your actions reflect your faith? Be a wise builder. Construct your house on the strong foundation of Christ, and let your performance match what you profess.
FEATURED RESOURCE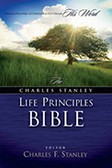 The Life Principles Bible
This Bible combines the wisdom of Scripture with the principles that guide Dr. Stanley's life and empower his ministry. Order your copy.
To see more resources from In Touch Ministries, please visit us at www.intouch.org or go directly to our bookstore at In Touch Ministries.