April 4-5, 2009
Finding Strength in the Lord 
Psalms 31
The world does not offer much hope for those in despair, but God does. Yesterday we saw that after hitting rock bottom, David "strengthened himself in the Lord" (1 Sam. 30:6). Though Scripture is not specific about what changed during his moment of surrender, I believe he underwent a five-step spiritual process.
First, David repented. Repentance is a change of mind that results in change of conduct. Facing up to earlier decisions that were unworthy of a godly man, David chose to change course. Second, he recalled God's past faithfulness in hard times as well as abundant blessings sent to reward obedience.
For his third step, the weary man reflected on heavenly power. He was emotionally, physically, and spiritually drained, but he'd been exhausted before and knew God's strength was sufficient for him. Because David recorded accounts of his experiences with God, which made recollecting easier.
Fourth, David remembered God's promises. His Psalms show that he valued assurances of protection, peace, and help during troubles.
Fifth, he resolved to trust God rather than give in to the despair that threatened to overwhelm him.
David's trust in the Lord was rewarded. In response to his faith, God gave him the strength he desperately needed.
If you surrender to God in moments of despair, He will provide what you need, as He did for David. He wants to strengthen His children so they can bear up under the weight of tough circumstances. So yield to Him—at some point, you'll probably look back and mark the day as the beginning of new growth in your faith. 
For more biblical teaching from Dr. Charles Stanley, please visit www.intouch.org
and
click here to listen to Dr. Stanley at OnePlace.com.
FEATURED RESOURCE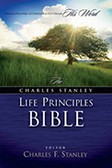 The Life Principles Bible
This Bible combines the wisdom of Scripture with the principles that guide Dr. Charles Stanley's life and empower his ministry. Order your copy. 
To see more resources from In Touch Ministries, please visit us at www.intouch.org or go directly to our bookstore at In Touch Ministries. 
Used with permission from In Touch Ministries, Inc. © 2009 All Rights Reserved.