April 8
Our Heavenly Place: New Jerusalem 
Revelation 21
The apostle John heard Jesus promise to prepare a place for His followers (John 14:1-6). Many years later, he was given a vision of that place—and he watched the New Jerusalem come down out of heaven. The sight was beyond human description, but he did his best to put this heavenly vision into earthly language (Rev. 21:9-22:5).
John saw the brilliance of God's glory radiating from the structure, whose foundation gleamed with the dazzling colors of precious stones. The gates were made of pearls and the street of transparent gold. This 1500-mile cube-shaped city was designed by the Lord as a place for Himself and mankind to live in perfect intimacy for all eternity. In verses 3 and 4, he notes that "the throne of God and of the Lamb will be in it, and His bond-servants will serve Him; they will see His face."
Though we may have difficulty imagining the physical structure of this heavenly city, we have no trouble understanding the meanings of the things that are not in the New Jerusalem. There will be no pain, tears, mourning, or death. Sin and every one of its consequences will be removed. All frustration, boredom, and problems will cease. No one will have handicaps, and our bodies will never grow tired or sick. 
When the difficulties of this life become burdensome, focus on your glorious heavenly future. The only trouble and pain you will ever experience is now. When your feet walk on the streets of New Jerusalem with the Savior, all the old ravages of sin will be gone, and your joy will be full.
For more biblical teaching and resources from Dr. Charles Stanley, please visit www.intouch.org.
Click here to watch Dr. Charles Stanley & In Touch Ministries Video Online
and
click here to listen to Dr. Stanley at OnePlace.com.
FEATURED RESOURCE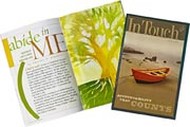 In Touch Magazine
Stories that Inspire, Teaching that Renews
If you like Dr. Charles Stanley's radio program, TV broadcast and books, then you'll love his free, award-winning monthly magazine. It's full of informative resources that will touch your heart and invigorate your faith. Every month, In Touch magazine brings readers daily devotionals from Dr. Stanley, in-depth Bible studies, inspiring articles and insightful teaching to help strengthen your family and your relationship with God. Click below to start your free subscription to In Touch magazine. 

Used with permission from In Touch Ministries, Inc. © 2009 All Rights Reserved.