April 9
The Privilege of Knowing God 
Philippians 3:7-11
It is a great tragedy that many people go through life without ever becoming acquainted with their Creator. To overlook that relationship is to miss the purpose for their existence and the greatest privilege available to mankind—knowing God. Even Christians can undervalue the honor of getting to know Christ more intimately.
Paul's all-consuming passion to know the Lord caused him to count everything else as worthless in comparison to that tremendous blessing. Though believers can accept Christ as their Savior, faithfully serve Him, and anticipate being with Him in heaven, many have no hunger to know Him right now.
How can we be satisfied simply with being saved and have so little interest in the most gratifying and exciting relationship available to us? Pursuing Christ with Paul's passion requires sacrifice—spending time alone with the Lord, surrendering our will, and learning to know Him through suffering. Although salvation is a free gift, intimacy with God is a costly process, but the rewards are invaluable and eternal.
Our culture floods us with information and distractions that can fill our minds and hearts, leaving us indifferent to developing a deeper relationship with Christ. Some people even substitute learning facts about the Lord for knowing Him relationally.
Examine your life to see what is hindering your passion for God. Consider ways to carve out time each day to be alone with Him. As you go about your routine, seek His guidance and listen for His voice. You, too, will eventually count everything else as rubbish compared to knowing Christ. 
For more biblical teaching and resources from Dr. Charles Stanley, please visit www.intouch.org.
Click here to watch Dr. Charles Stanley & In Touch Ministries Video Online
and
click here to listen to Dr. Stanley at OnePlace.com.
FEATURED RESOURCE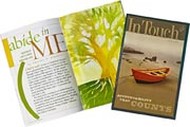 In Touch Magazine
Stories that Inspire, Teaching that Renews
If you like Dr. Charles Stanley's radio program, TV broadcast and books, then you'll love his free, award-winning monthly magazine. It's full of informative resources that will touch your heart and invigorate your faith. Every month, In Touch magazine brings readers daily devotionals from Dr. Stanley, in-depth Bible studies, inspiring articles and insightful teaching to help strengthen your family and your relationship with God. Click below to start your free subscription to In Touch magazine. 

Used with permission from In Touch Ministries, Inc. © 2009 All Rights Reserved.