In Touch Daily Devotional
by Dr. Charles Stanley
---
August 10, 2007 – Freedom from the Past – Matthew 11:28-30
            We physically function in the present, but we aren't restricted to the "now" in our thought life. Some people live in the future—always thinking about what's coming next. Others live in the present and constantly process today's events. And some regularly live in the past, which has its own share of problems.
            It's easy to get stuck in days gone by and dwell on old hurts and feelings of guilt. Sometimes it seems almost impossible to let go of a past mistake or error in judgment. When that's the case, feelings of regret wrap around our minds like chains. They prevent us from moving forward and anchor us to feelings of condemnation.
            Is this how Jesus wants you to live? Of course not. God hasn't trapped you in your past. He came to deliver a life of freedom. And He wants to set you free to embrace a glorious future He's prepared. So how can you get there?
            First, you must face your sin. Don't lie to yourself. Don't deny it. Admit your guilt to the Father. He already knows about it anyway.
            Second, you must be willing to accept His forgiveness. Otherwise, you'll never really surrender your burden. He wants to carry your load, but you have to agree to let Him.
            The third thing you must do to be free is to believe you have a future in Christ. John 10:10 says Jesus came to bring you an abundant, eternal life. You'll never experience that rich life if you continue to drag around your old mistakes.
            Are you haunted by your past? Lay down the chains of regret, and experience the freedom of complete forgiveness.
FEATURED RESOURCE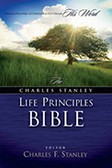 The Life Principles Bible
This Bible combines the wisdom of Scripture with the principles that guide Dr. Stanley's life and empower his ministry. Order your copy.
To see more resources from In Touch Ministries, please visit us at www.intouch.org or go directly to our bookstore at In Touch Ministries.