Aug. 11, 2009
The Nature of Discouragement
Psalm 16:7-11
Discouragement is a powerful, destructive force. Before we can understand how to rid our lives of this deadly landmine, we must recognize its harmful nature.
Understand that discouragement…
1. Is something we choose. Nobody else can make us discouraged; it is a choice that we alone make when facing disappointments.

2. Is universal. Everybody will face periods of disappointment and discouragement from time to time. This simply cannot be avoided, because we live in a seriously flawed world that is filled with equally flawed people.

3. Can recur. Sometimes we think we've settled an issue, which later resurfaces when we least expect it. Or, we may have old emotional wounds that are torn open by something a person says or does.

4. Can be temporary—or it can destroy our life. The choice is ours. If we refuse to deal with discouragement head-on, we are opening the door for it to completely dominate our life.

5. Is conquerable. With the Lord's help, we can choose not to be discouraged. If we don't believe discouragement can be conquered, then we're actually saying that God doesn't want His children to have a rich and fulfilled life.
Are you stuck in the throes of discouragement? If so, it will simply be impossible to experience the peace and inner joy that God wants for His children. Let Him help you out of that lowly state: start by believing that the Father wants to lift you up and get your life back on track with Him.
For more biblical teaching and resources from Dr. Charles Stanley, please visit www.intouch.org
and
click here to listen to Dr. Stanley at OnePlace.com.
FEATURED RESOURCE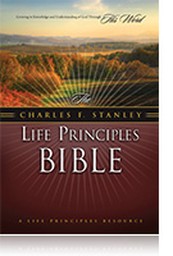 The NASB Life Principles Bible
You can now read the Scriptures in Dr. Stanley's favorite teaching translation -- the New American Standard -- while learning the 30 Life Principles that have guided him for more than 50 years. The new NASB Life Principles Bible will enhance your personal study time through explanation of key passages, plus helpful resources like "Answers to Life's Questions," concordance, maps, and much more. Available in leather and hardcover.

Used with permission from In Touch Ministries, Inc. © 2009 All Rights Reserved.