Aug. 13, 2009
External Causes of Discouragement
Discouragement can hit us from many angles, depleting our energy and productivity. Wise believers will learn to detect its sources in order to avoid this paralyzing effect. Today, let's examine some external causes.
1. Unresolved disappointments. This applies to letdowns caused by our own failed expectations or someone else's.

2. Constant criticism. When we are criticized frequently, it is natural to think, What's wrong with me? Yet, unless God reveals a truth in the comments, we must learn to let them go.

3. The feeling that no one's listening. The natural response to this is rejection.

4. The sense that we aren't appreciated after doing our best. We can get so tied to our work that someone's failure to acknowledge our efforts feels like a personal rebuff.

5. Bad working conditions. Many believers enjoy what they do but pick up on coworkers' cruelty, bitterness, or refusal to recognize their efforts. This can make it extremely difficult to get motivated about going to work each day.

6. Lacking opportunities to shine. A job that doesn't make the best use of one's gifts and abilities can wear a person down. So can tight-fisted management that limits freedom to make innovations.
Oftentimes, it's the people we see every day who seem to have the most power for causing discouragement in our lives. Read through the list again. Do any of the above scenarios sound disturbingly familiar? If so, pray for the strength to face these external discouragers with renewed confidence.  
For more biblical teaching and resources from Dr. Charles Stanley, please visit www.intouch.org
and
click here to listen to Dr. Stanley at OnePlace.com.
FEATURED RESOURCE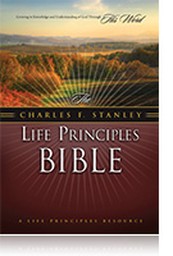 The NASB Life Principles Bible
You can now read the Scriptures in Dr. Stanley's favorite teaching translation -- the New American Standard -- while learning the 30 Life Principles that have guided him for more than 50 years. The new NASB Life Principles Bible will enhance your personal study time through explanation of key passages, plus helpful resources like "Answers to Life's Questions," concordance, maps, and much more. Available in leather and hardcover. 

Used with permission from In Touch Ministries, Inc. © 2009 All Rights Reserved.