Thursday August 14
In the Midst of Painful Trials
Genesis 39:6-20
Joseph's enslavement lasted for 13 years and went from bad to worse. He lost his favored position in Potiphar's household and went to prison when the master's wife told lies about him. His hope for release from jail died when the king's servant forgot his promise (Gen. 40:14, 23). The future looked bleak.
Despite the evidence of circumstances, God was carrying out His plan to bless Joseph and benefit his family. Joseph was His appointed person to rescue them from the coming famine. To accomplish this, he had to learn the Egyptian language and culture, develop leadership abilities, and mature spiritually. The Lord's plan accomplished all of this.
Joseph learned two helpful lessons. First, the Lord is a faithful companion who uses our troubles to prepare us for His work. When the time came, Joseph was fully trained to become second-in-command to Pharaoh—the Egyptian king even testified that God's presence was with Joseph (Gen. 41:38). Second, when the Lord accomplishes His purposes, the difficulty will end. At God's chosen moment, Joseph was freed from jail, rewarded with a high-ranking appointment, and reconciled with his family. Though his boyhood was gone, he was greatly blessed by living in the center of the Father's will.
Adversity can be painful, but the Lord uses it to further His purposes and equip us to carry out His plan. What is He trying to teach you in the midst of your trials? Are you cooperating with Him? Remember, even Jesus suffered in order to fulfill God's redemptive purpose (Matt. 16:21).
FEATURED RESOURCE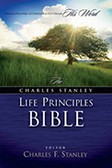 The Life Principles Bible
This Bible combines the wisdom of Scripture with the principles that guide Dr. Stanley's life and empower his ministry. Order your copy.
To see more resources from In Touch Ministries, please visit us at www.intouch.org or go directly to our bookstore at In Touch Ministries.