Aug. 17, 2009
Success God's Way
Proverbs 3:5-6
What causes some people to fail and others to achieve their goals? Perhaps, as some hypothesize, family background, education, and ability are the main ingredients. But why, then, do we hear of victories from those with difficult backgrounds, disabilities, or little training? Surely, something else determines whether we accomplish our objectives.
Contrary to society's definition—which usually involves fame, fortune, or power—true success means becoming the people God wants us to be, and reaching the goals He has set for our lives. Hebrews 12:1 offers His perspective on this: "Therefore, since we have so great a cloud of witnesses surrounding us, let us also lay aside every encumbrance and the sin which so easily entangles us, and let us run with endurance the race that is set before us."
Here, we see the keys to success. First, it is important to find encouragement from the lives of other believers who have seen Christ's faithfulness and followed His direction. Next, we should get rid of anything that holds us back from obeying God. Finally, we are to persevere, even through difficult or discouraging times. This passage
answers our original question: relying on Jesus for guidance and strength is what enables us to succeed.
God has a wonderful plan for blessing and fulfillment in your life, and part of His plan is that you live with purpose and perseverance. The Father's guidance will become clearer as you read His Word, pray for direction, and seek godly counsel. Do you know the goals the Lord has for you?
For more biblical teaching and resources from Dr. Charles Stanley, please visit www.intouch.org
and
click here to listen to Dr. Stanley at OnePlace.com.
FEATURED RESOURCE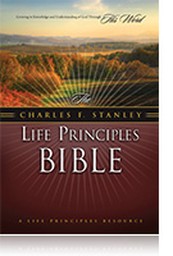 The NASB Life Principles Bible
You can now read the Scriptures in Dr. Stanley's favorite teaching translation -- the New American Standard -- while learning the 30 Life Principles that have guided him for more than 50 years. The new NASB Life Principles Bible will enhance your personal study time through explanation of key passages, plus helpful resources like "Answers to Life's Questions," concordance, maps, and much more. Available in leather and hardcover.

Used with permission from In Touch Ministries, Inc. © 2009 All Rights Reserved.