Aug. 25, 2009
Preparation for Greater Service
1 Kings 17:17-24
In Luke 17:5, the apostles asked Christ to increase their
faith
. The Lord told them that if they had faith as small as a mustard seed, they could do great things. God does not enlarge our faith instantly. He begins with what little we have and proceeds to grow it.
Elijah was in a faith-building program. The Lord gave him increasingly difficult challenges of reliance and obedience. Back at the brook, the prophet had to depend on the Lord for his own survival. But at Zarephath, he trusted God to provide for both himself and a widow. And in today's passage, he served her in an even larger way by raising her son to life.
Each act of believing God and the ensuing step of obedience resulted in increased opportunities for Elijah to serve the Lord and others. Raising the dead may seem like the height of his ministry, but it was to be followed by an even greater opportunity to influence an entire nation for God. Elijah was about to face the biggest spiritual battle of his life (1 Kings 18)—all his previous demonstrations of faith and obedience were the Lord's way of preparing him.
God wants each of us to be influential in His kingdom. He knows which faith challenges to present so that we can be entrusted with even greater tasks.
The Lord will provide occasions for you to believe Him and respond in obedience. These situations are what we call "problems." Begin to look at each difficulty as an opportunity designed by God specifically for the purpose of increasing your faith so He can do great things in and through you.
For more biblical teaching and resources from Dr. Charles Stanley, please visit www.intouch.org
and
click here to listen to Dr. Stanley at OnePlace.com.
FEATURED RESOURCE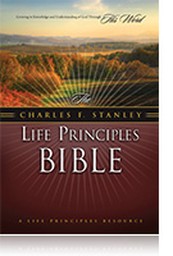 The NASB Life Principles Bible
You can now read the Scriptures in Dr. Stanley's favorite teaching translation -- the New American Standard -- while learning the 30 Life Principles that have guided him for more than 50 years. The new NASB Life Principles Bible will enhance your personal study time through explanation of key passages, plus helpful resources like "Answers to Life's Questions," concordance, maps, and much more. Available in leather and hardcover.

Used with permission from In Touch Ministries, Inc. © 2009 All Rights Reserved.