In Touch Daily Devotional 
by Dr. Charles Stanley
---
December 11, 2006
The Coming of Christ
Since Creation, God was orchestrating world affairs to set the stage for the arrival of His Son. In the meantime, He used prophecy to keep alive people's hope for a fresh beginning and a new relationship with Him.
So many Messianic predictions are recorded in the Old Testament that the likelihood of one man fulfilling them all was slim. However, Jesus Christ's birth, life, and death happened exactly as the prophets foretold. Isaiah proclaimed, "Behold, a virgin will be with child and bear a son, and she will call His name [God with us]" (Isaiah ).
Micah told the Jewish people their leader would come from the tiny town of Bethlehem. (Micah 5:2) The timing of Messiah's arrival was revealed to Daniel, who recorded the timeline in his writings. (Note: The word "week" in Daniel 9:25-26 actually has the meaning of "seven years"—just as in Genesis 29:27.)
God Himself gave a direct prophecy in Genesis 3:15, when He told Satan, "[The seed of woman] shall bruise you on the head." It was an indication that Christ would defeat him. A careful comparison of Jesus' life with the prophecies of Scripture leads to only one conclusion: Jesus is the promised Messiah, who brings every willing person into a new covenant relationship with the Father.
The hope of a coming Messiah sustained the Israelites through centuries of chaos and captivity. That messianic hope is still available in our day through the One who came, died, and rose again for us. Those of us who have received Jesus Christ as Savior have an unbreakable covenant relationship with God— and the promise of eternity with Him.
FEATURED RESOURCE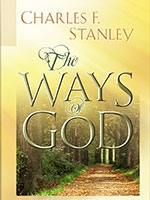 The Ways of God
from Dr. Charles Stanley
God's ways are always perfect, and following them leads to fulfillment and success. One of life's undeniable truths is that your choices will ultimately determine your future. While you can decide for yourself what career field to enter or who to marry, nothing compares with seeking God first and relying on the wonderful principles of His Word. In this series, Dr. Stanley teaches that as you serve God and seek His ways, you'll be blessed with peace, wisdom, and guidance for the journey ahead. Order here  now!
To see more resources from In Touch Ministries, please visit us at www.intouch.org  or go directly to our bookstore at In Touch Ministries.