In Touch Daily Devotional 
by Dr. Charles Stanley
---
December 16, 2006
Living in the Center of God's Will
Our three-in-one God has the right to plan our lives because of who He is and what He has done. As Creator, He has fashioned us in the womb. (Psalm 139:13) As Sustainer, He causes our hearts to beat and our bodies to function.
Jesus is our Redeemer, who released us from bondage to sin. He purchased our freedom with His shed blood. He is the Savior who rescued us from an eternity of punishment. He is also our Counselor, from whom we receive wisdom and understanding. Jesus is also our Guide who directs us perfectly since He sees all. (Hebrews 4:13) As our Provider, He knows what is best for us in every situation and gives us just what we need. (James 1:17)
Yet throughout history, many have chosen to resist His will. For example, the unbelieving and fearful Israelites turned away from entering the Promised Land. (Numbers 14:1-4) King Solomon disregarded God's instructions about marriage. And, Jonah refused to witness to Nineveh. God allowed them to rebel, but He also let them suffer the consequences. And then, the Lord pressured them to return to Him.
Israel made a 40-year detour before arriving back where they started. King Solomon found life meaningless apart from God and was attacked by enemies. And, Jonah landed in the fish's belly before repenting and obeying the Lord.
A life that brings honor and glory to God is a surrendered life. It is one which operates in the center of His will. Won't you spend your remaining days discovering and walking in God's will for you? You will never regret it.
FEATURED RESOURCE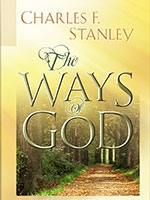 The Ways of God
from Dr. Charles Stanley
God's ways are always perfect, and following them leads to fulfillment and success. One of life's undeniable truths is that your choices will ultimately determine your future. While you can decide for yourself what career field to enter or who to marry, nothing compares with seeking God first and relying on the wonderful principles of His Word. In this series, Dr. Stanley teaches that as you serve God and seek His ways, you'll be blessed with peace, wisdom, and guidance for the journey ahead. Order here  now!
To see more resources from In Touch Ministries, please visit us at www.intouch.org  or go directly to our bookstore at In Touch Ministries.