In Touch Daily Devotional 
by Dr. Charles Stanley
---
December 17, 2006
Why Our Needs Remain Unmet
Teenagers often search for identity through role models such as actors and sports figures. However, many times these are the very people whose lives are coming apart at the seams. Adults do the same thing, only they are more likely to seek self-gratification through financial gain and social position.
    
As Christians, our only true source of identity is Jesus Christ. He is our example for successful living. Searching for this in another person or social position only leads to disappointment. Sadly, many who profess to know Jesus as their Savior refuse to acknowledge Him as Lord over every area of their lives. Attitudes such as pride, selfishness, greed, and materialism arise from hearts that are not fully committed to Christ. Jesus made it clear that in order for us to save our life, we must be willing to lose it unto Him. (Luke 9:24)
    
Peter reminds us that we are really aliens–strangers to this world because of our love and devotion to Jesus Christ. Therefore, we are not to seek gratification in temporal pleasures. We are chosen by God to know Him and to experience the wonder of His mercy and grace. Our Identity is secure because of who lives inside of us and not who we are.
    
Have you settled the identity issue? If not, ask God to reveal the areas in your life that lack true commitment to Him.
FEATURED RESOURCE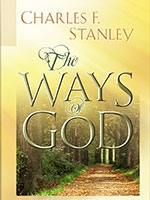 The Ways of God
from Dr. Charles Stanley
God's ways are always perfect, and following them leads to fulfillment and success. One of life's undeniable truths is that your choices will ultimately determine your future. While you can decide for yourself what career field to enter or who to marry, nothing compares with seeking God first and relying on the wonderful principles of His Word. In this series, Dr. Stanley teaches that as you serve God and seek His ways, you'll be blessed with peace, wisdom, and guidance for the journey ahead. Order here  now!
To see more resources from In Touch Ministries, please visit us at www.intouch.org  or go directly to our bookstore at In Touch Ministries.