In Touch Daily Devotional
by Dr. Charles Stanley
---
December 18, 2007 – The Light of Truth – Psalms 119:97-106
            A thinking person doesn't drift through life, making decisions according to what looks or feels best. Acting on the basis of feelings places a person at the mercy of Satan, who uses "spin," deception, and half-truths to trap victims in the bondage of sin. But wise men and women—those who seek truth to guide them through life—can avoid the snare of poor choices and negative consequences.
            The only perfectly dependable source of truth is Scripture. Living by biblical principles protects believers from the Enemy's deceptions. He may try to deceive with outright contradictions to the truth, but those are easy to uncover. The greater danger is the lie that contains an element of fact, which makes it both persuasive and difficult to refute.
            Since such half-truths flow freely today, it's vital that Christians be able to discern between truth and Satan's twisted version of reality. If we make a decision based on an error in our thinking, we are likely to step out of the Lord's will and into pain or embarrassment. But God has made provision for our weaknesses. He's given us His Word and His Spirit so we can fill our minds with truth and live out His principles through divine power.
            Living without biblical truth is like walking in the woods at night. The darkness is so complete that we repeatedly trip. But when we use the Scriptures as a guide—"a lamp for [our] feet"—we can see deception lying across our path like a fallen log (Psalm 119:105). We can also see our way around it so that our testimony is not harmed by stumbling.
FEATURED RESOURCE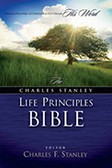 The Life Principles Bible
This Bible combines the wisdom of Scripture with the principles that guide Dr. Stanley's life and empower his ministry. Order your copy.
To see more resources from In Touch Ministries, please visit us at www.intouch.org or go directly to our bookstore at In Touch Ministries.