In Touch Daily Devotional 
by Dr. Charles Stanley
---
December 19, 2006
Peace Beyond Comprehension
Once, after Dr. Stanley gave a sermon on peace, a woman came up to speak with him. She explained that her son had been in a terrible accident. Despite the fact that doctors had given him little chance of survival, he was slowly recovering. 
"What you said about peace passing our understanding is true," the woman told Dr. Stanley. Even when her son was on the brink of death, her heart was certain the heavenly Father was near and in control. Paul wrote from a prison cell to remind believers that giving their concerns over to God would result in peace.
Having a quiet spirit in a storm of trouble does not make any human sense. We are "supposed" to become anxious. It's only natural. But our God is supernatural. He is living inside us in the form of the Holy Spirit, so we can remain peaceful.
No matter what harsh circumstances may challenge our faith, peace that is grounded in Christ cannot be broken. With the Father's all-powerful hand protecting and providing for us, what reason do we have to be afraid or anxious? What we have to do is keep our eyes and our faith focused upon the Lord.
Isaiah 26:3 tells us, "The steadfast of mind You will keep in perfect peace, because he trusts in You." We live in a world of conflict. As a result, we often suffer heartache. It's easy to become focused on the situation and all the ways it has disrupted our life. But peace comes from choosing to trust God for a resolution that will come in His time and in His way.
FEATURED RESOURCE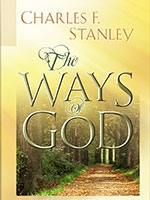 The Ways of God
from Dr. Charles Stanley
God's ways are always perfect, and following them leads to fulfillment and success. One of life's undeniable truths is that your choices will ultimately determine your future. While you can decide for yourself what career field to enter or who to marry, nothing compares with seeking God first and relying on the wonderful principles of His Word. In this series, Dr. Stanley teaches that as you serve God and seek His ways, you'll be blessed with peace, wisdom, and guidance for the journey ahead. Order here  now!
To see more resources from In Touch Ministries, please visit us at www.intouch.org  or go directly to our bookstore at In Touch Ministries.