In Touch Daily Devotional 
by Dr. Charles Stanley
---
December 24, 2006
Priority of Prayer
What did the apostle Paul mean when he wrote, "Pray without ceasing"? For one, he was indicating that we can live in an attitude of prayer even though we are engaged in everyday activity. This does not mean we walk around mumbling prayers to God, though there will be days when we pray much more than in others.
    
Instead, the indication here leans to one of opportunity. We can have a natural attitude of prayer surrounding our lives. Prayerfulness is a sign that we are dependent on the Lord and not on ourselves. Should you pray about trivial matters? Yes. God listens to every prayer. A prayer to find lost glasses or to mentally retrieve forgotten information are worthy requests.
    
God has called us to be people of prayer. Communication on this level is one of intimate fellowship with the Savior. It is through prayer that we discover the goodness and personal devotion of God. Though taking time to be alone with God is the ideal, we don't have to limit ourselves. God hears our prayers no matter where we pray.
    
Oswald Chambers writes: "So many of us limit our praying because we are not reckless in our confidence in God. In the eyes of those who do not know God, it is madness to trust Him. But when we pray through the power of the Holy Spirit we realize the resources of God -- He is our perfect heavenly Father, and we are His children."
FEATURED RESOURCE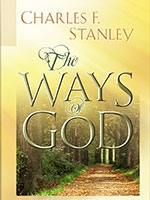 The Ways of God
from Dr. Charles Stanley
God's ways are always perfect, and following them leads to fulfillment and success. One of life's undeniable truths is that your choices will ultimately determine your future. While you can decide for yourself what career field to enter or who to marry, nothing compares with seeking God first and relying on the wonderful principles of His Word. In this series, Dr. Stanley teaches that as you serve God and seek His ways, you'll be blessed with peace, wisdom, and guidance for the journey ahead. Order here  now!
To see more resources from In Touch Ministries, please visit us at www.intouch.org  or go directly to our bookstore at In Touch Ministries.