In Touch Daily Devotional
by Dr. Charles Stanley
---
December 25, 2007 – A Night to be Remembered – Isaiah 7:14
            Christmas is a night to be remembered because God came to earth in the person of Jesus Christ. His humble birth was the beginning of a mighty work the Father accomplished on mankind's behalf. It included:
            The Incarnation. From the moment of His human birth, Jesus was at the same time fully God and fully man (Colossians 2:9). In Him, the human nature and divine nature were perfectly united—Jesus didn't lay aside His deity at any time, nor did He exchange it for humanity. Instead, He chose to submit to His Father's will and live as one of us. Throughout His earthly life, He remained the eternal Son of God, but simultaneously possessed a human nature unblemished by sin.
            Revelation of God. The Son came into this world so we could understand what the Father is like. Jesus said, "He who sees Me sees the One who sent Me" (John 12:45).
            Identification with Man. By calling Himself the Son of Man (Matthew 8:20; Mark 10:33, 45), Jesus was fully identifying Himself with us. He walked among us and learned first-hand the suffering and death that take place in human experience. During the crucifixion, He knew the consequences of sin, as He took all our iniquities upon Himself (2 Corinthians 5:21). Jesus' perfect life qualified Him to die in our place and pay our sin-debt in full.
            As wonderful as the birth of a baby is, what occurred at Christmas was far greater. God became man and dwelt among us so we might become reconciled to Him. Hallelujah!
FEATURED RESOURCE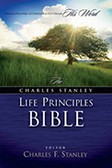 The Life Principles Bible
This Bible combines the wisdom of Scripture with the principles that guide Dr. Stanley's life and empower his ministry. Order your copy.
To see more resources from In Touch Ministries, please visit us at www.intouch.org or go directly to our bookstore at In Touch Ministries.