December 25 
Holiday or Holy Day? 
Matthew 1:18-25
For centuries, society has been slowly drifting down a broad river of change, but speed is picking up, and we have now entered the rapids. Even Christmas is not immune to these changes. It has become just a "holiday" to the world—and, sadly, even to some Christians.
"Merry Christmas" has been replaced by "Happy Holidays," and carols about Jesus have been traded for songs celebrating Santa Claus, winter, family, and friends. Finding Christ-centered Christmas cards has become a challenge. Snowmen and sleighs have taken the place of manger scenes, which were once common in both private and public settings.
This slide away from Christ is the natural progression of the world, but it is not the direction that believers should go. Drifting is easy: you just relax and follow the path of least resistance. But going against the stream requires constant awareness and diligent effort. We must actively guard against letting the world steal Christ from our celebrations.
Christmas is not just a holiday; it is a holy day—the day God came to earth in the flesh of a tiny baby for the purpose of reconciling sinful mankind to Himself. Holidays are numerous, but there is only one Christmas.
The world tries hard to find pleasure in Christ-less holiday observances, but happiness is often elusive when experiences don't match expectations. If you feel a sense of letdown, you may have drifted away from an authentic celebration of Christmas. Allow Jesus back in, and joy will return. 
For more biblical teaching and resources from Dr. Charles Stanley, please visit www.intouch.org.
Click here to watch Dr. Charles Stanley & In Touch Ministries Video Online
and
click here to listen to Dr. Stanley at OnePlace.com.
FEATURED RESOURCE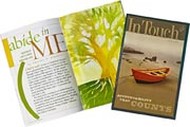 In Touch Magazine
Stories that Inspire, Teaching that Renews
If you like Dr. Charles Stanley's radio program, TV broadcast and books, then you'll love his free, award-winning monthly magazine. It's full of informative resources that will touch your heart and invigorate your faith. Every month, In Touch magazine brings readers daily devotionals from Dr. Stanley, in-depth Bible studies, inspiring articles and insightful teaching to help strengthen your family and your relationship with God. Click below to start your free subscription to In Touch magazine. 

Used with permission from In Touch Ministries, Inc. © 2009 All Rights Reserved.