In Touch Daily Devotional 
by Dr. Charles Stanley
---
December 26, 2006
Meditation: The Key to Listening
Meditation is a word that has been thrown around quite a bit over the years. To some, it's a time of introspection and self-empowerment. To others, it's seen as a mystical practice in which certain people focus on some false god or belief system. For Christians, however, meditation means something else.
Despite the different ways the term is used, meditation is something we must take seriously in our walk of faith. Simply put, it's the practice of thinking about the Lord in all of His fullness. It involves asking questions such as: Who is God? How does He work in my life? What does Scripture say about Him? How has He shown His faithfulness to me personally? How has He made Himself known?
In times of meditation, God's Holy Spirit directs our thinking as we earnestly seek to know Him better. It's a time of holy thinking that's completely dedicated to the Lord. Often, this means arguing with yourself; wrestling with spiritual principles as your heavenly Father builds a firm foundation in your life. It may even be a time of humiliation as the Lord does what is necessary to humble you in His presence. Doing so will bring you into a true Christ-centered frame of mind.
Meditation is serious business, and believers should never imagine it as a time of thoughtless relaxation. Absolute concentration is required, as the Lord directs your thoughts according to His will. Set aside an hour this week to focus your mind totally on God. He is certainly worthy of your undivided attention.
FEATURED RESOURCE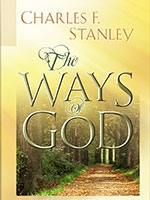 The Ways of God
from Dr. Charles Stanley
God's ways are always perfect, and following them leads to fulfillment and success. One of life's undeniable truths is that your choices will ultimately determine your future. While you can decide for yourself what career field to enter or who to marry, nothing compares with seeking God first and relying on the wonderful principles of His Word. In this series, Dr. Stanley teaches that as you serve God and seek His ways, you'll be blessed with peace, wisdom, and guidance for the journey ahead. Order here  now!
To see more resources from In Touch Ministries, please visit us at www.intouch.org  or go directly to our bookstore at In Touch Ministries.