December 29 
A Healthy Heart 
Psalms 26:2
Doctors recommend regular checkups to make sure that our bodies are functioning properly. Though we might not even realize something is wrong, an undetected problem could potentially cause other health issues. The same is true of our relationship with the heavenly Father. He desires that we seek His truth daily, allowing Him to shed light on anything that hinders our walk.
And, just as some people are nervous about seeing their physician, we might feel fearful of inviting the Holy Spirit to examine our lives. It can be frightening to realize the truth about our sin and see ourselves as we actually are. And furthermore, knowing that God will require our repentance and obedience may also cause discomfort in our lives.
But the rewards are great. First, our Father removes any spiritual "blockages" that impede a close walk with Him. Second, we gain greater intimacy with the Lord and with others. Third, our energy is renewed as resentment, fear, and other ungodly attitudes stop draining us; serving God becomes a joy instead of a duty. Fourth, regardless of circumstance, we experience spiritual freedom through forgiveness. All of these benefits lead to deeper fulfillment, peace, and joy.
Maturity is a lifelong process. The Father will continue to grow His children until He brings them home. Seek God's wisdom and truth, and ask Him to reveal anything holding you back from a beautiful friendship with Him. He wants to walk closely with you all your days—and eternally.
For more biblical teaching and resources from Dr. Charles Stanley, please visit www.intouch.org.
Click here to watch Dr. Charles Stanley & In Touch Ministries Video Online
and
click here to listen to Dr. Stanley at OnePlace.com.
FEATURED RESOURCE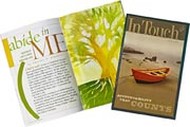 In Touch Magazine
Stories that Inspire, Teaching that Renews
If you like Dr. Charles Stanley's radio program, TV broadcast and books, then you'll love his free, award-winning monthly magazine. It's full of informative resources that will touch your heart and invigorate your faith. Every month, In Touch magazine brings readers daily devotionals from Dr. Stanley, in-depth Bible studies, inspiring articles and insightful teaching to help strengthen your family and your relationship with God. Click below to start your free subscription to In Touch magazine. 

Used with permission from In Touch Ministries, Inc. © 2009 All Rights Reserved.