In Touch Daily Devotional 
by Dr. Charles Stanley
---
December 3, 2006
On The Bottom Looking Up
Many times when we are seemingly at the bottom it is because we have not confessed and truly repented, or turned away, from sin.
This was the case with David. Weary of running from the murderous Saul for eight long years, David finally wilted and moved to the land of the Philistines, partnering with King Achish. Only the providence and grace of God prevented David and his band of 600 men from warring against their own country.
David had a faith failure. He stopped believing that God would protect him from Saul, and fear caused him to side with Israel's staunchest rivals. Compromise usually follows a faith failure. David stepped outside of God's will, compromised his loyalty to God and God's people, and then forgot God.
It wasn't until David reached the very bottom rung, until he was facing the loss of his family and death by mutiny, that he returned to the Lord. He repented, recalled how God had blessed him in the past, refocused his attention to God's power, remembered God's promises, and resolved to trust God. He simply made up his mind that he would follow and obey the Lord whatever the cost.
Immediately, David's life was back on track. When you're at the bottom and there's nowhere to look but up, take heart. That is the only direction you should be looking anyway.
FEATURED RESOURCE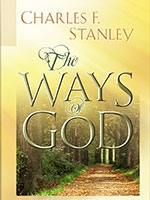 The Ways of God
from Dr. Charles Stanley
God's ways are always perfect, and following them leads to fulfillment and success. One of life's undeniable truths is that your choices will ultimately determine your future. While you can decide for yourself what career field to enter or who to marry, nothing compares with seeking God first and relying on the wonderful principles of His Word. In this series, Dr. Stanley teaches that as you serve God and seek His ways, you'll be blessed with peace, wisdom, and guidance for the journey ahead. Order here  now!
To see more resources from In Touch Ministries, please visit us at www.intouch.org  or go directly to our bookstore at In Touch Ministries.