In Touch Daily Devotional 
by Dr. Charles Stanley
---
December 5, 2006
God's Love Offered to the Hurting
Jesus said, "He who has seen Me has seen the Father" (John 14:9). His life clearly revealed God's loving character and His compassion for people. The Lord's interaction with the Samaritan woman, for example, was a demonstration of the tender love and care our heavenly Father has for us.
Jesus initiated contact. Much to His disciples' dismay, Jesus deliberately went out of His way to meet the woman from Samaria. In that day, Jews did not associate with Samaritans. In fact, they avoided traveling through their region. But God does not follow man's rules or his prejudices. He reaches out with a message of hope and new life to anyone who will listen and believe.
Jesus knew the Samaritan woman's pain and heartache. She must have felt worthless, abandoned, and unloved after being divorced by five husbands. We all have emotional baggage that weighs us down and causes us pain. Our heavenly Father knows our deepest hurts and secret shame. Jesus offered her forgiveness and love. The Lord drew out the details of her situation in a nonjudgmental way. He wanted her to be receptive to His offer of forgiveness and a relationship with God. Jesus understood what she needed—to feel loved, valued, and accepted. And He knew a relationship with Him would fulfill that need.
God sees us as clearly as He saw the Samaritan woman. He knows our hurts and wants to bring us healing and restoration. Will you accept His love and submit to the Holy Spirit's transforming work in order to be brought to spiritual health?
FEATURED RESOURCE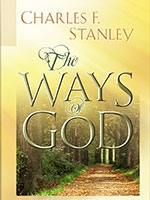 The Ways of God
from Dr. Charles Stanley
God's ways are always perfect, and following them leads to fulfillment and success. One of life's undeniable truths is that your choices will ultimately determine your future. While you can decide for yourself what career field to enter or who to marry, nothing compares with seeking God first and relying on the wonderful principles of His Word. In this series, Dr. Stanley teaches that as you serve God and seek His ways, you'll be blessed with peace, wisdom, and guidance for the journey ahead. Order here  now!
To see more resources from In Touch Ministries, please visit us at www.intouch.org  or go directly to our bookstore at In Touch Ministries.