In Touch Daily Devotional 
by Dr. Charles Stanley
---
December 6, 2006
Can Eternal Life Be Earned?
Sometimes teenagers decide to do something and then ask for input. At that point, if they get an answer they don't want to hear, they often react negatively. Believers can act the same way toward God.
In Mark 10:17, a wealthy man came to Jesus and asked, "What shall I do to inherit eternal life?" He spent his days keeping the commandments. But the rich man wanted to know what else he needed to do to secure his position in Heaven. The man incorrectly believed that eternal life can be earned.
Satan, the great deceiver, promotes the false idea that man can make himself acceptable in God's eyes. Many of us have fallen victim to Satan's lies. We approach God on the basis of our conduct or performance. Just like the wealthy man, we may have thought, God will accept me because I am doing the right things. Or perhaps we have assumed, The good deeds I do outweigh the wrong things in my life. In thinking this way, we have established our own standard of acceptability and ignored God's.
We all have a flesh nature bent away from our heavenly Father. Nothing we do will pay for our sin-debt. Only faith in Jesus, who died in our place, makes us acceptable to God. Through Him, we are forgiven of our sins and receive everlasting life. Apart from Christ, we face eternal punishment. The rich man chose to walk away from Jesus. How do you respond when the truth of Scripture conflicts with what you believe? Do you embrace God's standard or turn away to follow your own desires?
FEATURED RESOURCE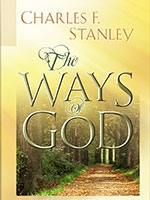 The Ways of God
from Dr. Charles Stanley
God's ways are always perfect, and following them leads to fulfillment and success. One of life's undeniable truths is that your choices will ultimately determine your future. While you can decide for yourself what career field to enter or who to marry, nothing compares with seeking God first and relying on the wonderful principles of His Word. In this series, Dr. Stanley teaches that as you serve God and seek His ways, you'll be blessed with peace, wisdom, and guidance for the journey ahead. Order here  now!
To see more resources from In Touch Ministries, please visit us at www.intouch.org  or go directly to our bookstore at In Touch Ministries.