In Touch Daily Devotional 
by Dr. Charles Stanley
---
December 7, 2006
Relying on Something Other Than God
The rich, young man approached Jesus to learn how to secure his future in eternity. Out of loving concern, the Lord revealed the man's wrong thinking and identified a significant spiritual problem.
First, the wealthy man incorrectly believed that good deeds were the means of entering Heaven. But eternal life is not "bought." It's a free gift through faith in Jesus Christ. We must also understand it's not something we can achieve apart from God. Eternal life becomes ours at salvation. At that moment, the life of God comes to us in the person of His indwelling Holy Spirit. (John 4:14)
Secondly, the man's identity was tied up in material things. Jesus addressed his spiritual problem by issuing a loving challenge. The Lord told him to sell all his possessions, give to the poor, and follow Him. Jesus was not saying that giving every-thing away was the way to salvation. He wanted this young man to realize his difficulty—his possessions owned him. Jesus offered treasure in Heaven. But the man turned away. His action revealed what Jesus already knew. He was too attached to his belongings to accept the offer of true riches.
Jesus then explained that those who have wealth and position tend to trust in themselves, not in God. In our Western culture, we have so much more than most people in the world. Yet, we can fall into this same trap. We believe in Jesus for salvation but trust in ourselves for daily living. We depend on our intelligence, talents, material possessions, or family to help us. God wants us to rely on Him alone. On whom or what do you depend?
FEATURED RESOURCE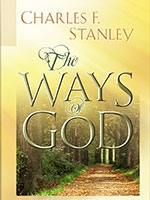 The Ways of God
from Dr. Charles Stanley
God's ways are always perfect, and following them leads to fulfillment and success. One of life's undeniable truths is that your choices will ultimately determine your future. While you can decide for yourself what career field to enter or who to marry, nothing compares with seeking God first and relying on the wonderful principles of His Word. In this series, Dr. Stanley teaches that as you serve God and seek His ways, you'll be blessed with peace, wisdom, and guidance for the journey ahead. Order here  now!
To see more resources from In Touch Ministries, please visit us at www.intouch.org  or go directly to our bookstore at In Touch Ministries.