In Touch Daily Devotional 
by Dr. Charles Stanley
---
December 8, 2006
Can God Reach Those With Closed Minds?
Responses to the Gospel vary. Some people believe it's true. Others resist learning what the Scriptures say about salvation. Many have closed minds and refuse to have anything to do with Jesus. These individuals respond to Christians in one of two ways. They're polite but firm in their rejection of Christ. Or, they're aggressive and antagonistic toward those who call Jesus, "Savior." In their opposition, some even cross over into violence.
Can God's message of salvation penetrate those whose minds are shut? The conversion of Saul of Tarsus, who became the apostle Paul, proves that no one is beyond the reach of God's love. Paul was a devoutly religious man who professed faith in God the Father. But he rejected Jesus as God, the Son.
His hatred of the Lord extended to all those who followed Jesus. Paul went to great lengths to persecute believers and persuade them into blaspheming Christ. God's Spirit convicted this violent man of his sin, gave him an awareness of his own need for a Savior, and revealed that Jesus was the only solution for him and everyone else.
Dr. Stanley believes Paul came under conviction by the Holy Spirit when he was persecuting Christians. The future apostle witnessed unwavering devotion to Jesus even as believers were being killed for their faith (Acts 7:59-60). 
Today, the Holy Spirit continues working to bring men and women under conviction. He uses the lives and testimonies of believers to reveal the truth about Jesus to those with closed minds and hard hearts. Do you know people who seem beyond God's reach? Be encouraged. Continue to ask God for their salvation (Philippians 4:6).
FEATURED RESOURCE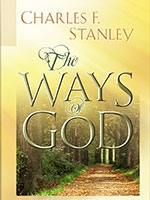 The Ways of God
from Dr. Charles Stanley
God's ways are always perfect, and following them leads to fulfillment and success. One of life's undeniable truths is that your choices will ultimately determine your future. While you can decide for yourself what career field to enter or who to marry, nothing compares with seeking God first and relying on the wonderful principles of His Word. In this series, Dr. Stanley teaches that as you serve God and seek His ways, you'll be blessed with peace, wisdom, and guidance for the journey ahead. Order here  now!
To see more resources from In Touch Ministries, please visit us at www.intouch.org  or go directly to our bookstore at In Touch Ministries.