In Touch Daily Devotional 
by Dr. Charles Stanley
---
December 9, 2006
God Draws People to Himself
The invitation to be reconciled to God is for all mankind. 1 Timothy 2:4 says, the Lord "desires all men to be saved and to come to the knowledge of the truth." 2 Peter 3:9 tells us, God does not wish "for any to perish but for all to come to repentance." And the promise of John is "For God so loved the world, that He gave His only begotten Son, that whoever believes in Him shall not perish, but have eternal life."
The apostle Paul's initial response to the Gospel message was direct, harsh, and violent. He persecuted followers of Jesus and tried to turn them against the Lord. He remained blind to the truth until his Damascus road experience. In the first chapter of Romans, Paul wrote about man's refusal to follow God. He explained that the truths about God's eternal power and divine nature are evident to all. They leave us without any excuse for not seeking Him. Our sin nature leads us to deny the truth of who Jesus is. Then, we refuse to glorify Him as He deserves. (vv. 18-21)
God does not prevent us from coming near. We refuse to do it. The Scripture states our problem clearly in Romans 3:11: "There is none who understands, there is none who seeks for God." Our God, in His infinite mercy, not only provided His Son to bear the punishment for our sins. He also sent His Spirit to draw many into His family.
As believers, we will know the Holy Spirit is at work when we're convicted of sin and repent for doing wrong. A desire to change ungodly behaviors and attitudes will turn us away from sin and lead us to embrace His ways. Do you see this happening in your life?
FEATURED RESOURCE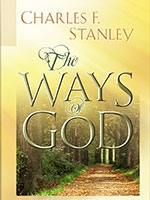 The Ways of God
from Dr. Charles Stanley
God's ways are always perfect, and following them leads to fulfillment and success. One of life's undeniable truths is that your choices will ultimately determine your future. While you can decide for yourself what career field to enter or who to marry, nothing compares with seeking God first and relying on the wonderful principles of His Word. In this series, Dr. Stanley teaches that as you serve God and seek His ways, you'll be blessed with peace, wisdom, and guidance for the journey ahead. Order here  now!
To see more resources from In Touch Ministries, please visit us at www.intouch.org  or go directly to our bookstore at In Touch Ministries.