February 14-15, 2009
The Cross: Symbol of Forgiveness 
Matthew 20:27-28
Have you ever wondered why the God of the universe didn't decide to save us without having His Son die the gruesome death of crucifixion? Surely, you think, the Lord could do anything, right? Yes, He can do anything—except violate His own character.
God is Holy. We know that all people have disobeyed His law and broken fellowship with Him (Rom. 3:23). From the beginning of time, He has required a penalty for disobedience to His commands. In fact, our sin actually deserves payment of our own life (Gen. 2:17; Ezek. 18:4; Rom. 6:23).
However, because of our Father's great love, He allowed another life to be offered as a substitutionary payment for our sin-debt. So in the Old Testament, people would sacrifice animals to atone for their wrongs. However, this gracious provision was just a temporary solution. Jesus' death was the final sacrifice for sin. Our loving Savior took that penalty upon Himself, dying in our place—the Son of God willingly became our sin and took the Father's wrath upon Himself.
And then He did something that we could not. Three days after dying, He rose from the grave. Jesus conquered death! We now have direct access to the heavenly Father through Jesus' death on the cross. Once we accept His free gift of full forgiveness, our entire sin-debt is cancelled.
There's nothing you can do to make yourself right with God. But you can be forgiven of all your sin and receive eternal life by trusting in Christ's death on your behalf.
FEATURED RESOURCE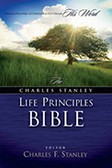 The Life Principles Bible
This Bible combines the wisdom of Scripture with the principles that guide Dr. Charles Stanley's life and empower his ministry. Order your copy.
To see more resources from In Touch Ministries, please visit us at www.intouch.org or go directly to our bookstore at In Touch Ministries.
Used with permission from In Touch Ministries, Inc. © 2008 All Rights Reserved.