In Touch Daily Devotional
by Dr. Charles Stanley
---
February 14, 2007 – Love's Hidden Enemy – 1 Corinthians 13:8-11
Welcome to the In Touch devotional. Believers are called to live a life of sacrificial love, just as Jesus did. This involves loving God with our whole hearts, forgiving enemies, putting others' interests before our own, and loving one another. Writing to the Corinthians, Paul penned a description of biblical love. In 1 Corinthians 13:11 he explained, "When I became a man, I did away with childish things." The apostle described what Dr. Stanley considers the hidden enemy of loving relationships: childish thinking.
Our beliefs form a mental "grid" through which we interpret life. Into this system, we incorporate things we learned as children, which may or may not be accurate. One such example of immature thinking equates performance with acceptance and love. Our young minds may have formed the belief that success equals approval or that love is dependent upon achievement. As we grow up, those wrong ideas can dictate how we behave and spill over to our expectations for others. We might pressure coworkers to meet our lofty inflated standards or place unreasonable demands on our spouse and children. This can result in tension and disharmony.
Our relationship with God can also be affected by childish thinking if our need to "measure up" keeps us from feeling loved and accepted by Him. By releasing our inaccurate beliefs about performance and acceptance, we free ourselves to experience God's unconditional love. Then, we're able to accept others the way He has embraced us. Do you believe you are fully accepted and loved by God?
FEATURED RESOURCE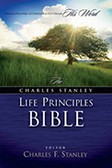 The Life Principles Bible
This Bible combines the wisdom of Scripture with the principles that guide Dr. Stanley's life and empower his ministry. Order your copy.
To see more resources from In Touch Ministries, please visit us at www.intouch.org or go directly to our bookstore at In Touch Ministries.