In Touch Daily Devotional
by Dr. Charles Stanley
---
February 21, 2007 – Making a Lasting Impact – Matthew 5:13-16
Welcome to the In Touch devotional. First Timothy 2:4 says that God "desires all men to be saved and to come to the knowledge of the truth." His plan is to use believers to make an impact on the world. It's God's will for each of us to live in such a way that we influence other people for their spiritual good. Jesus used two very distinct words—salt and light—to illustrate our mission.
Salt is an additive used for flavoring and preserving. Its presence penetrates and spreads throughout any food on which it is sprinkled. As a result, there is a significant difference in flavor. Christians are to function the same way as salt: by spreading the appeal of Christ through our interaction with others. But, Jesus warns that the "saltiness" of our lives will decrease if we practice ungodly habits and attitudes. Chronic patterns of sin will render us "tasteless" and ineffective.
Jesus also calls us to be light, just as He was (John 1:4, 9). Light drives out darkness, reveals what is present, illuminates the path ahead, and warns of danger. We're to do the same by reflecting the Savior's presence through our conversation and conduct. Just as soot on a glass lantern diminishes its light, sin's presence decreases the strength of our testimony and reduces our influence. The more sin there is in our lives, the less divine light we'll reflect.
The composition of salt and the clarity of light are what gives them their power. Our character, which is who we are when no one is looking, can help or hurt our ability to affect our world. Consider the impact you can make by following God!
FEATURED RESOURCE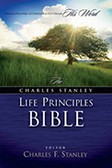 The Life Principles Bible
This Bible combines the wisdom of Scripture with the principles that guide Dr. Stanley's life and empower his ministry. Order your copy.
To see more resources from In Touch Ministries, please visit us at www.intouch.org or go directly to our bookstore at In Touch Ministries.