February 25
Why God Closes Doors 
Jeremiah 10:23-24
A blockaded opportunity is a useful teaching tool. God's ultimate objective is to mold us into the image of His Son, and toward that end, He at times prevents us from doing or having something we desire.
• Closed doors prevent mistakes. Just because a path is clear does not mean it is the one God intends for us to follow. Sometimes we won't have the information we need to make a wise decision, so He bars the way either spiritually or physically. The Holy Spirit can see the whole road map for our lives, which is why we are to follow His guidance.
• Closed doors redirect our walk.
Rest assured, God never leaves a willing servant with nothing to do. The alternate opportunity He has in mind will yield bigger fruit, more satisfaction, and greater glory for Him.
• Closed doors test faith and build perseverance. Waiting for the Lord to speak or act is hard, particularly when our desire has been denied. But we'll learn wisdom, patience, and trust by pausing prayerfully until He reveals His will.
• Closed doors buy us time. We are not always as prepared as we'd like to think. God may temporarily hold shut an opportunity for service until a believer is properly equipped for kingdom work.
In spite of the repeated use of "closed door" in this devotion, the real message is that God opens doors. He has created a perfect pathway for us to follow. Keep your feet on it, and you will walk over thresholds leading to service, satisfaction, and glory for your Lord.
EXTRA COLUMN: Exploring the Bible
On Faith
"And He did not do many miracles there because of their unbelief" (Matt. 13:58).
"Then the disciples came to Jesus privately and said, 'Why could we not drive it out?' And He said to them, 'Because of the littleness of your faith; for truly I say to you, if you have faith the size of a mustard seed, you will say to this mountain, "Move from here to there," and it will move; and nothing will be impossible to you'" (Matt. 17:19-21).
"And he said, ' . . . If You can do anything, take pity on us and help us!' And Jesus said to him, '"If You can?" All things are possible to him who believes.' Immediately the boy's father cried out and said, 'I do believe; help my unbelief'" (Mark 9:21-24).
"And Jesus said to him, 'Receive your sight; your faith has made you well'" (Luke 18:42).
"Do not let your heart be troubled; believe in God, believe also in Me" (John 14:1).
"For we walk by faith, not by sight" (2 Cor. 5:7).
"Now faith is the assurance of things hoped for, the conviction of things not seen. And without faith it is impossible to please Him, for he who comes to God must believe that He is and that He is a rewarder of those who seek Him" (Heb. 11:1, 6).
"What use is it, my brethren, if someone says he has faith but he has no works? Can that faith save him? Just as the body without the spirit is dead, so also faith without works is dead" (James 2:14, 26). 
For more biblical teaching and resources from Dr. Charles Stanley, please visit www.intouch.org.
Click here to watch Dr. Charles Stanley & In Touch Ministries Video Online
and
click here to listen to Dr. Stanley at OnePlace.com.
FEATURED RESOURCE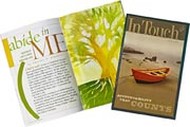 In Touch Magazine
Stories that Inspire, Teaching that Renews
If you like Dr. Charles Stanley's radio program, TV broadcast and books, then you'll love his free, award-winning monthly magazine. It's full of informative resources that will touch your heart and invigorate your faith. Every month, In Touch magazine brings readers daily devotionals from Dr. Stanley, in-depth Bible studies, inspiring articles and insightful teaching to help strengthen your family and your relationship with God. Click below to start your free subscription to In Touch magazine. 

Used with permission from In Touch Ministries, Inc. © 2009 All Rights Reserved.