In Touch Daily Devotional
by Dr. Charles Stanley
---
February 29, 2008 – Joshua's Decisiveness – Joshua 1:1-9 
            From time to time, everyone faces a big decision of some kind. As believers, we should face such crossroads with the desire to follow the Lord's will. The Hebrew leader Joshua gives us an example to follow. 
            God gave Joshua clear directives, which, from a human standpoint, didn't make much sense: He told the leader to march his men around the city for seven days. Many of us might have questioned such a battle plan. 
            Yet Joshua was fully committed to obeying, and he refused to reconsider that decision, even after (quite literally) receiving marching orders (Joshua 3:3-5). He followed directions exactly, and God gave the Israelites victory through his obedience. 
            Sadly, many believers are less determined to obey. Even when the Lord's instructions seem perfectly sensible, internal pressure can still make us second-guess what we should do. Sometimes, we don't trust God enough to take a big step of faith. Or we may question whether we heard Him correctly. Another possibility is fear of failure. But we should realize this: When we seek God's will, walk in His way, and obey what we believe He is saying, He graciously works—even through our missteps—for our good (Romans 8:28). 
            External pressure can also veer us away from God's best. When we choose to obey Him, we may face persecution and criticism. However, we must seek to please God, even if that means displeasing others. 
            What decisions are you facing? Pray for wisdom and direction, confess any disobedience, and be ready to obey.
FEATURED RESOURCE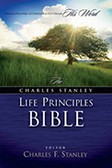 The Life Principles Bible
This Bible combines the wisdom of Scripture with the principles that guide Dr. Stanley's life and empower his ministry. Order your copy.
To see more resources from In Touch Ministries, please visit us at www.intouch.org or go directly to our bookstore at In Touch Ministries.