February 6-7
The Levels of Life 
1 Corinthians 2:12-16
Living accommodations vary widely in the physical world, ranging from mansions to crude shelters. In the same way, the spiritual realm also has different levels.
In our passage today, the Lord reveals three ranks of spiritual life:
1. The Natural Man—Everyone who has not accepted Christ as his Savior is in this category. Many in this group are capable of good deeds, but since their sins remain unforgiven, they are separated from the Lord. Because the Holy Spirit does not dwell within them, they cannot understand the things of God.
2. The Spiritual Man—This group is composed of Christians who are filled with the Spirit and surrendered to His control. Though they're not perfect, they are quick to recognize transgression, confess sin, and genuinely repent by turning back to God. Because the Holy Spirit is ruling in their lives, He is able to guide them by offering wisdom and insight into spiritual things.
3. The Fleshly Man—This designation describes believers who are trying to live in two different worlds. At salvation, all Christians are given a new nature, but the old "flesh" patterns aren't removed. By allowing residual sinful tendencies to dominate their lives, these people are quenching the Spirit within them.
You are in one of these three categories. Take some time to evaluate your life by asking, Where am I now? Where would I like to be? The Lord will help those who want to move closer to Him. Ask Him to work in your life to bring you to the place of the spiritual man.
For more biblical teaching and resources from Dr. Charles Stanley, please visit www.intouch.org.
Click here to watch Dr. Charles Stanley & In Touch Ministries Video Online
and
click here to listen to Dr. Stanley at OnePlace.com.
FEATURED RESOURCE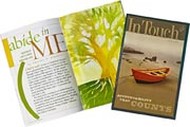 In Touch Magazine
Stories that Inspire, Teaching that Renews
If you like Dr. Charles Stanley's radio program, TV broadcast and books, then you'll love his free, award-winning monthly magazine. It's full of informative resources that will touch your heart and invigorate your faith. Every month, In Touch magazine brings readers daily devotionals from Dr. Stanley, in-depth Bible studies, inspiring articles and insightful teaching to help strengthen your family and your relationship with God. Click below to start your free subscription to In Touch magazine. 

Used with permission from In Touch Ministries, Inc. © 2009 All Rights Reserved.