In Touch Daily Devotional 
by Dr. Charles Stanley
---
Monday February 5, 2007
Fully Alive
Colossians 2:9-17
When you become a new creature in Christ Jesus, sin no longer has to be a part of your life. But why do believers still sin?
Once we receive God's forgiveness for our lives, we are crucified with Christ. Paul writes: "I have been crucified with Christ; and it is no longer I who live, but Christ lives in me; and the life which I now live in the flesh I live by faith in the Son of God…" (Galatians 2:20).
However, we still have a human body, which has God-given appetites that desire to be fulfilled.
When the enemy taints these appetites, luring us outside the boundaries God has drawn for us, our actions to fulfill these desires are sins.
The real question is this: when you step beyond those bounds, do you feel comfortable?
We should never feel comfortable sinning. Paul certainly didn't as he wrote, "For what I am doing, I do not understand; for I am not practicing what I would like to do, but I am doing the very thing I hate" (Romans 7:15).
It's the new nature – God's nature – in us calling us back to our heavenly Father. If you are a Christian, just because you sin against God doesn't mean you have a sinful nature.
When you learn to yield to the urgings of your new nature, sin in your life begins to diminish as you walk in the freedom of Christ.
FEATURED RESOURCE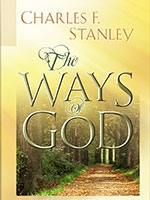 The Ways of God
from Dr. Charles Stanley
God's ways are always perfect, and following them leads to fulfillment and success. One of life's undeniable truths is that your choices will ultimately determine your future. While you can decide for yourself what career field to enter or who to marry, nothing compares with seeking God first and relying on the wonderful principles of His Word. In this series, Dr. Stanley teaches that as you serve God and seek His ways, you'll be blessed with peace, wisdom, and guidance for the journey ahead. Order here  now!
To see more resources from In Touch Ministries, please visit us at www.intouch.org< /span>  or go directly to our bookstore at In Touch Ministries.
{enter}{enter}

{enter}