In Touch Daily Devotional 
by Dr. Charles Stanley
---
January 10, 2007 
Should You Set Goals?
Verse after verse of Scripture encourages believers to trust God for their needs. Some people, including church leaders, think those passages indicate believers should not set their own goals. To them, setting goals indicates a lack of confidence in our heavenly Father. But, this interpretation fails to acknowledge trust as an important discipline and turns it into apathy.
Goal setting helps us determine where to focus our energy to accomplish the work the Lord has for us to do (Ephesians ). It is also scriptural. In Genesis 6, we learn Noah built an ark with God's instruction. In chapter 24 of Genesis, Abraham sent a servant out to find a wife for his son Isaac. And in Genesis 41, Joseph stockpiled food to supply Egypt through a famine. In Philippians 3:10-14, the apostle Paul sought deeper knowledge of Jesus Christ.
As any of these wise men could confirm, reaching for a goal increases faith. Stretch a rubber band wide, and—when allowed to relax—it will be slightly larger. Faith works the same way. When we decide to do something that requires more resources than we have, we must depend upon God to do the work through us. And if we rely on Him for the wisdom to set right goals, then we can trust Him to enable us to achieve them.
Setting goals is the most basic step toward achieving anything worthwhile. If we are to succeed, we must be purposeful in deciding how to live. Any wise man or woman knows the only way to be sure of a goal's value is to rely on the Lord's guidance in setting it.
FEATURED RESOURCE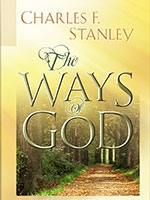 The Ways of God
from Dr. Charles Stanley
God's ways are always perfect, and following them leads to fulfillment and success. One of life's undeniable truths is that your choices will ultimately determine your future. While you can decide for yourself what career field to enter or who to marry, nothing compares with seeking God first and relying on the wonderful principles of His Word. In this series, Dr. Stanley teaches that as you serve God and seek His ways, you'll be blessed with peace, wisdom, and guidance for the journey ahead. Order here  now!
To see more resources from In Touch Ministries, please visit us at www.intouch.org  or go directly to our bookstore at In Touch Ministries.