In Touch Daily Devotional 
by Dr. Charles Stanley
---
January 11, 2007 
The Result of Not Setting Goals
Some people believe goal setting undercuts trust in God. Many others refuse to be goal-oriented because they are lazy or fear failure. To be successful in the Christian life, we must accept that we will occasionally fail. Then, we must decide to get to work anyway. The alternative is to let fear or laziness dictate our actions. That would lead to one of three results: waste, drifting, or mediocrity.
It is extremely important to plan wisely, and then, to follow through on whatever steps that preparation calls for. For instance, we have to build time into our schedule for ourselves and our families. Otherwise, our day can easily be gobbled up by work and wasted time.
Refusing to set goals means we'll be acting without purpose. We will have spent time, money, and energy, and lack productivity. What will be, will be is unscriptural thinking that causes a believer to "drift." We have the privilege of planning our life according to God's guidance.
Throughout the Bible, the Lord directs His servants in setting goals, and then He provides the strength to achieve them. A life lacking goals is mediocre at best. Without ambitions to work toward, we have no opportunity for success. And if we never experience the thrill of achieving a long sought-after goal, we will be very disappointed with our life.
No one wants a mediocre existence of waste and apathy. A believer should never settle for less than God's best. The indwelling Holy Spirit offers each of us the great potential to be a godly goal setter.
FEATURED RESOURCE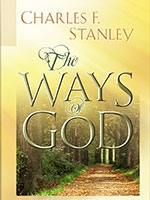 The Ways of God
from Dr. Charles Stanley
God's ways are always perfect, and following them leads to fulfillment and success. One of life's undeniable truths is that your choices will ultimately determine your future. While you can decide for yourself what career field to enter or who to marry, nothing compares with seeking God first and relying on the wonderful principles of His Word. In this series, Dr. Stanley teaches that as you serve God and seek His ways, you'll be blessed with peace, wisdom, and guidance for the journey ahead. Order here  now!
To see more resources from In Touch Ministries, please visit us at www.intouch.org  or go directly to our bookstore at In Touch Ministries.