January 11
Confidence That Empowers 
Philippians 4:10-13
Our world emphatically proclaims the importance of self-esteem, which is a favorable impression of oneself. Surely, we are told, an individual who values himself highly will accomplish much. Yet Scripture tells us that true confidence flows, not from self, but from our identity in Christ.
In God's Word, we learn that Paul experienced this appropriate assurance. He expressed certainty regarding the message and ministry God gave him (Gal. 1:15-17; Rom. 1:16). The apostle was also sure of eternal security in Jesus (Rom. 8:37-39). What's more, today's passage shows that Paul stood firmly on his belief that He could do anything in God's will because Jesus was living through him.
The Holy Spirit is the basis for our confidence—not positive thinking, right circumstances, or the ability to think highly of ourselves. Even in the midst of difficulty, we can live with boldness because the Spirit of the living God dwells within our being and enables us to follow Him.
Of course, we have a role too. The Spirit directs us and strengthens us, but we are responsible to listen, obey, and diligently follow His guidance each day. We can have assurance in an unstable world because almighty God provides everything we need to live triumphantly.
Are you facing situations that make you feel inadequate or insecure? Search the Bible for descriptions of His character. Realize that this sovereign, almighty God—the Beginning and the End—lives inside of you. Find your confidence in the one who is your Creator, Redeemer, and Friend.
For more biblical teaching and resources from Dr. Charles Stanley, please visit www.intouch.org.
Click here to watch Dr. Charles Stanley & In Touch Ministries Video Online
and
click here to listen to Dr. Stanley at OnePlace.com.
FEATURED RESOURCE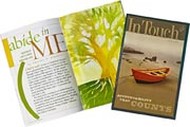 In Touch Magazine
Stories that Inspire, Teaching that Renews
If you like Dr. Charles Stanley's radio program, TV broadcast and books, then you'll love his free, award-winning monthly magazine. It's full of informative resources that will touch your heart and invigorate your faith. Every month, In Touch magazine brings readers daily devotionals from Dr. Stanley, in-depth Bible studies, inspiring articles and insightful teaching to help strengthen your family and your relationship with God. Click below to start your free subscription to In Touch magazine. 

Used with permission from In Touch Ministries, Inc. © 2009 All Rights Reserved.