In Touch Daily Devotional 
by Dr. Charles Stanley
---
January 15, 2007
Setting Goals to Achieve God's Plan
God has a purpose for our lives and goals for us to accomplish. (Ephesians 2:10) To fulfill His plans, we need to set goals that are consistent with what He has in mind for us. Once we know the direction God wants us to take, we can begin taking steps toward fulfilling His purpose.
First, we must have a clear picture of the goal. The more defined and well thought-out our mission is, the more sensitive we'll be to the opportunities God places in our paths.
Second, we need to be confident that we can succeed through Christ.  We should look to the future in light of God's presence within us, His infinite resources, and His unwavering promises. (Philippians 4:19; 2 Corinthians 1:20)
Third, we should have a consuming desire to accomplish God's plan. This is based on the value we place on accomplishing our goals and focusing on the One who has set those goals. God's sacrificial, unending love will serve as a great motivator. (1 John 4:9-11)
Fourth, set a course of action.  Break a large goal into smaller, achievable tasks and cover each step with prayer that seeks instruction from God.
Finally, establish a timetable. Deadlines help to keep us moving forward. But it is okay to adjust them as circumstances change.
In Genesis 24, Abraham's trusted servant is a picture of the characteristics needed to reach a godly objective. Those characteristics are to know our goals, maintain confidence, be passionate, have a plan, and set deadlines.  What is the Lord's purpose for this season of your life? Are you moving ahead step-by-step to achieve it?
FEATURED RESOURCE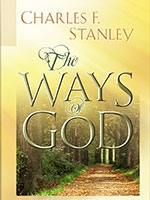 The Ways of God
from Dr. Charles Stanley
God's ways are always perfect, and following them leads to fulfillment and success. One of life's undeniable truths is that your choices will ultimately determine your future. While you can decide for yourself what career field to enter or who to marry, nothing compares with seeking God first and relying on the wonderful principles of His Word. In this series, Dr. Stanley teaches that as you serve God and seek His ways, you'll be blessed with peace, wisdom, and guidance for the journey ahead. Order here  now!
To see more resources from In Touch Ministries, please visit us at www.intouch.org  or go directly to our bookstore at In Touch Ministries.