In Touch Daily Devotional 
by Dr. Charles Stanley
---
January 18, 2007
Reasons Why We Fail
Children sometimes have excuses to explain why they disobeyed. "I didn't hear you," "I didn't have time," and "I didn't realize you wanted it done right away" are familiar statements to many parents.
Similarly, we tend to offer a wide variety of justifications to the Father for failure to obey Him. Excuses are attempts to shift responsibility to something or someone besides ourselves.  
Greed also causes us to fail to accomplish the Lord's plans. Selfishness won't help us succeed in His kingdom.  Generosity, which is expressed through giving, speaking words of encouragement, or using our time for the good of others, brings the Lord's blessing.  
Acting against our conscience is another hindrance. It makes us double-minded: we feel guilty over our action but continue anyway. In this condition, our concentration diminishes, preventing us from putting our wealth of experience, talent, and ability into God's work.
One last obstacle is laziness, which is often accompanied by many excuses and yields the same result: disobedience.  For example, the Lord commands all of us to treat each other in a Christlike manner (Romans 12:9-16), but His instruction frequently goes ignored because it takes too much effort. 
With the Holy Spirit's help, we can overcome these negative tendencies.  Which one is He prompting you to work on?
FEATURED RESOURCE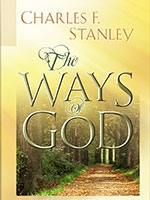 The Ways of God
from Dr. Charles Stanley
God's ways are always perfect, and following them leads to fulfillment and success. One of life's undeniable truths is that your choices will ultimately determine your future. While you can decide for yourself what career field to enter or who to marry, nothing compares with seeking God first and relying on the wonderful principles of His Word. In this series, Dr. Stanley teaches that as you serve God and seek His ways, you'll be blessed with peace, wisdom, and guidance for the journey ahead. Order here  now!
To see more resources from In Touch Ministries, please visit us at www.intouch.org  or go directly to our bookstore at In Touch Ministries.