In Touch Daily Devotional 
by Dr. Charles Stanley
---
January 19, 2007
God's Plan for Our Life
How do we discover God's plan for our lives?
We must first learn to glorify Him.  He commands us to let our lights shine before men so we'll bear spiritual fruit that glorifies Him.  As our lives increasingly follow the Savior's pattern, our thoughts and responses will bring Jesus praise and point others to Him.
Another way to discover God's will is by conforming to Christ's likeness. With each opportunity that we encounter, we must make ask if we will become more like Jesus or if we'll be tempted in our weaker areas and turn away from Him. If we submit our minds and emotions to the Lord, His Spirit will build Jesus' character qualities into our lives.  As we rely on the Holy Spirit, He'll help us make wise decisions and guide us safely past temptation.
When trying to decide if something is God's will, ask yourself, Is this in line with the Bible? Throughout the Scriptures, the heavenly Father has revealed what pleases Him. His commands are clear regarding the way born-again believers should live. Our homes, businesses, and community lives are to function according to His will. 
Whether in your family, workplace, or neighborhood, don't let yourself be pressured into actions or decisions that upset God.  Train yourself to stop and ask the Holy Spirit to reveal whether each choice will bring God glory, help develop Christ's character in you, and keep you in the center of God's plan and purpose. Wait on Him, and don't step ahead until you have an answer.
FEATURED RESOURCE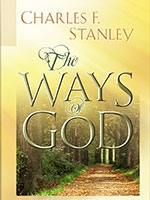 The Ways of God
from Dr. Charles Stanley
God's ways are always perfect, and following them leads to fulfillment and success. One of life's undeniable truths is that your choices will ultimately determine your future. While you can decide for yourself what career field to enter or who to marry, nothing compares with seeking God first and relying on the wonderful principles of His Word. In this series, Dr. Stanley teaches that as you serve God and seek His ways, you'll be blessed with peace, wisdom, and guidance for the journey ahead. Order here  now!
To see more resources from In Touch Ministries, please visit us at www.intouch.org  or go directly to our bookstore at In Touch Ministries.